The Irish singer-songwriter visited Cafe 31 in Downpatrick on Wednesday morning with her daughter when she ordered a couple of coffees and a vegan breakfast.
The owners of the Downpatrick cafe, Sean and Natasha Roberts, shared a picture with their "very special visitor" on Facebook and revealed that the Nothing Compares 2 U singer is "such a lovely woman".
Speaking to the Belfast Telegraph, cafe owner Sean Roberts said: "She was lovely… she ordered a latte and her daughter ordered an Americano and asked if we could make a vegan breakfast.
"We didn't even recognise her until a customer said who she was. So when I was down at the table I asked was it her and then could I have a picture.
"She said she loves the coffee and ordered one to takeaway and what brand it was. We use Greenbean Coffee Roasters."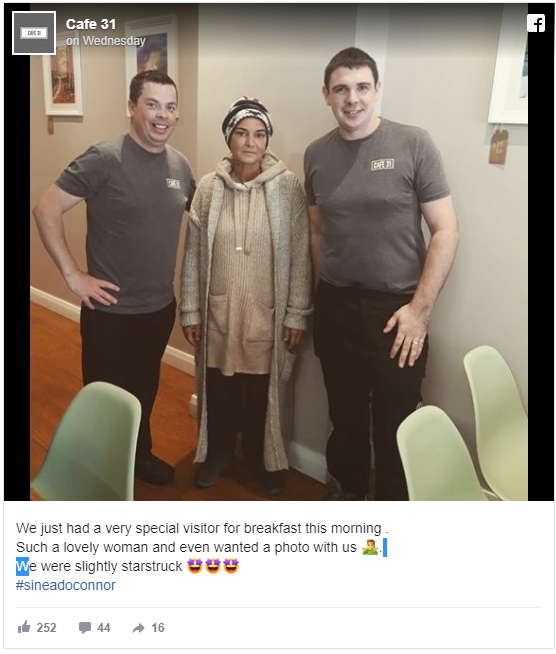 Contact us today to enquire about getting these award-winning blends and so much more for your business https://www.greenbeanroasters.com/contact/
Story Source – Belfast Telegraph
#GreatTasteAwards2019 #GreatTasteAwards #GreatTasteAwardWinner #AwardWinning #AwardWinningCoffee #GreenbeanCoffeeRoasters #SineadOConnor